Picasso Cafe in the Paseo District is a unique artistic blend of taste, funky atmosphere and laid back appeal that everyone can enjoy. 
For those that are not familiar with the Paseo District, it is Oklahoma City's hot spot to enjoy the arts and entertainment that only this unique part of town can offer. Local shops with paintings, pottery, beadery, and much more all sprinkle this colorful street. When you are ready to sit down for a bite to eat, look no further than Picasso Cafe!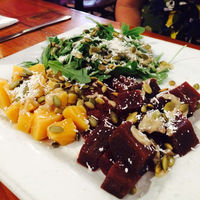 Picasso Cafe offers lunch, dinner, drinks and Sunday brunch. There is always something for everyone as they have health conscience menu samplings as well as utilizing local farm to table options. Fresh ingredients and an excellent presentation make your dining experience at Picasso Cafe a treat to remember. 
As a special treat for your pooch, they offer a pet friendly patio with treats for your furry family members. Just another unique touch that will create a lasting impression! 
Picasso Cafe is open Mon thru Thurs 11 to 10pm, Fri and Sat 11 to 12am, Sunday Brunch 10 to 3pm, and Sunday Supper 4 to 9pm
Located at 3009 Paseo Dr. OKC, OK 73103
Are you looking to move to the Paseo District? Here's a complete guide to homes available